South Devon Holiday Cottages for Rent
All 12 of our properties are perfect self-catered holiday cottages from which to explore the South Devon coastline and Dartmoor at any time of year. Groups, families and friends all love returning to our big holiday cottages, enjoying the unique happy atmosphere.
Find us Fast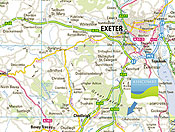 Directions
The cottages are easy to find, under 10 minutes from the M5.
Latest Comments
"The perfect house for a family get-together. Never had such a good week. Weather great, swimming pool a dream. Thank you!" - Monica Nemson - Luneberg, Germany
"Super place, well thought out. Will come again. Ashcombe Adventure Centre a boon" - The Stanford Family, Salisbury
"Fabulous cottage, loads to do locally. Activity Centre BRILLIANT!" - The Jones Family, Milton Keynes
"We really had a marvellous time and so much appreciated the upgraded facilities at Apple Tree Cottage" - Sue Feakin, London